Linda Spooner, JD, M.D. '99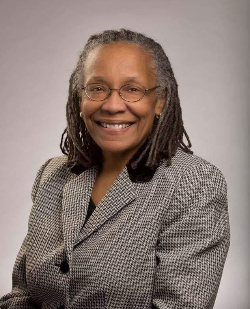 Dr. Linda Spooner was an attorney working in real estate and corporate law for over 20 years before pursuing her lifelong dream of becoming a physician. She attended Howard University College of Medicine from 1995-1999. She was an extremely proud Howard graduate and spoke openly and often about the rigorous academics and excellent training physicians receive from HUH.

During her years at Howard, Dr. Spooner bonded with both faculty and fellow classmates and formed friendships that lasted throughout her life. She combined professionalism and camaraderie, while always focusing on academic excellence. Linda was a passionate learner, studied intensely and encouraged intellectual curiosity.

She completed her residency and worked at George Washington University Hospital, later joining the faculty there. After several years at GW, Dr. Spooner started her own Internal Medicine practice in Washington, DC. 
She often spoke about how much she loved caring for her patients and that being their physician brought her great joy.

Dr. Spooner later moved to North Carolina where she practiced at Cape Fear Valley Health System, first as a physician in the hospital and then moving on to administrative positions. Following her work with Cape Fear, Dr. Spooner decided to utilize skills from both of her career disciplines and worked as a consultant providing clinical guidance for physicians and hospitals across the country.

Dr. Spooner was a staunch believer in the protection of the rights of all human beings, free speech and in the equality and dignity of all persons and all labor. Throughout her life, she spoke out wherever she saw injustice, lending her voice to those in need or who could not speak for themselves.
Honoring Her Memory
To honor the memory of Dr. Linda Spooner, HUMAA has started a campaign to raise funds for an endowed scholarship. 
In Gratitude
Thank you to all those who have donated to this campaign to date:

Tracey R. Humbert, M.D. '99