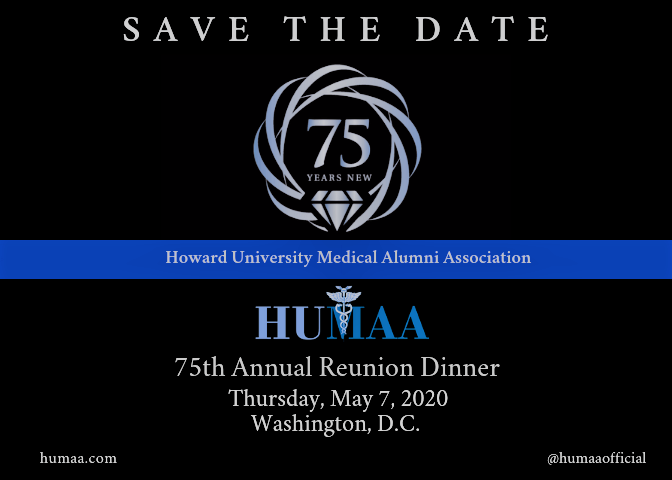 There are over 4,000 living alumni of HUCM around the world. 
Your medical school benefits did not end when you walked across that stage—as a graduate you are a part of a living LEGACY! 
4,000+ Strong! 
All roads lead to Washington, DC on May 7, 2020. All Alumni are welcomed.
This year, special honorees are the Classes ending in 0 and 5. We also are delighted to welcome the Class of 2020 into the alumni family. 
We invite you to purchase a ticket HERE, reminisce and reconnect with classmates and our wonderful sponsors.
It's a Celebration! Welcome back, Bison!
---
Reunion Travel Accommodations:
Airline Discount:  Fly into Dulles, Reagan, or BWI Airport and SAVE up to 10% on various fare classes, including first class.
Use HUMAA's Special Web Link: https://www.delta.com/flight-search/book-a-flight -or- 
Telephone Delta Airlines Special Services at 800-328-1111 | HUMAA Meeting Code: NMU3T
Reserve Your Room at the Marriott Marquis  | Reservations: (202) 824-9200
Rates:  Tuesday, May 5th – Friday, May 8th:  $299 per night.
Saturday Night, May 9th - $169

HUMAA's Guest Parking Rate is $35 per night (When booking your room, please let them know you will need parking).