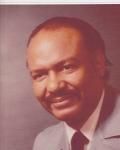 Dr. Gerald Leonard Stovall M.D. passed away peacefully at home December 3, 2013. The patriarch of the pioneer Stovall family, he was attended to by his children, grandchildren, and great-grandchildren in his last days and his children were at his side when he transitioned. Gerald was born in Los Angeles in 1925. His father Dr. Leonard Stovall, who arrived in Los Angeles from Atlanta around 1895, was the first African-American graduate of USC Medical School and the first African-American physician on staff at General Hospital.
He had a general practice out of two offices in South Los Angeles for many years, and was on staff at County General and later the Hubert Humphrey Clinic. 
He was a gregarious, generous man known for his kindness, charity, and good humor. He had many friends, including the large contingent of fellow Howard alumni that formed the core of the South Los Angeles professional community during the 1960's. He was a 40-year member emeritus of the Xi Boule of Sigma Pi Phi and belonged to the Guardsmen.