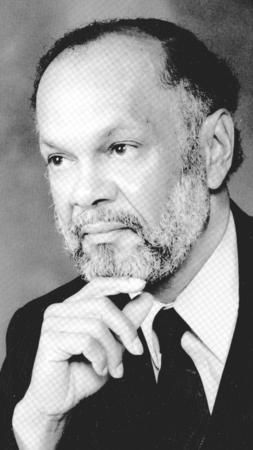 Dr. Donald C. Chambers, a retired obstetrician-gynecologist who delivered thousands of babies and was a national educational examiner in his field, died of complications from Alzheimer's disease Nov. 26 at the Broadmead retirement community. He was 78 and had lived in Timonium and Pikesville.
Born in Jamaica, West Indies, and raised in Brooklyn, N.Y., he was the son of Lynval and Mavis Chambers. He was a member of the Chi Delta Mu fraternity. He then served in the Air Force and left military service as a major.
Dr. Chambers served his residency in obstetrics and gynecology at the Kings County Hospital Center-Downstate Health Science Center in Brooklyn, N.Y. "He was a wonderful teacher and was a mentor to me," said Dr. Marc Lowen, a gynecologist and state medical employee. "He was very well thought of in the national community of obstetrics and gynecology. He was a respected clinician and teacher."
He moved to Baltimore and in 1968 joined with Drs. William Hall and Louis Randall to form an OB-GYN medical practice at the Garwyn Medical Center on Garrison Boulevard.

"It seemed that everyone in Baltimore's African-American community made use of the medical practice," said his son, Bradley Chambers, president of MedStar Union Memorial Hospital. "He had a stellar reputation and he spanned generations. Mothers and their daughters were his patients."
"He delivered our daughter," said former Baltimore Mayor Kurt L. Schmoke, now University of Baltimore president. "He was a good friend of our family. ... I had a great deal of trust in him."

"He had a reputation in the community as being compassionate and skillful," said Rep. Elijah E. Cummings, whose daughter was delivered by Dr. Chambers. "He had an outstanding bedside manner and took the time to explain to patients what they might be going through. He was never in a rush."
Dr. Randall recalled his former medical partner's "gentle, low-key, personable demeanor." He remembered flying to Detroit more than 45 years ago to recruit Dr. Chambers to the medical practice in Baltimore. "He had quite a few offers, but we needed him," said Dr. Randall, who lives in Pikesville.

Dr. Chambers delivered babies at Baltimore hospitals that included Sinai, Bon Secours and the old Lutheran Hospital and the Provident-Liberty Medical Center. At Sinai, he was a member of the teaching faculty and headed its division of gynecology for many years. "He was so well respected that he was one of those medical statesmen who other physicians looked up to," said Neil Meltzer, president and CEO of LifeBridge Health. "Residents adored him as their teacher."
In 1970, Dr. Chambers was the subject of an article in the Baltimore Afro-American when he delivered a healthy 5-pound, 4-ounce baby boy who was not carried in the uterus but in the mother's ovaries. "The remarkable thing is that the child was born live," he said in the article.
In a 1987 letter to The Baltimore Sun, Dr. Chambers, then the president of the state's Obstetrical and Gynecological Society, addressed medical liability cases. "In the theatrical atmosphere created by some trial lawyers, both physician and patient become actors in the medico-legal drama," he wrote. "As members of the OB/GYN profession, we are appalled and dismayed. ... It is this type of absurd verdict and even more outlandish awards that is helping drive up liability insurance premiums."
In 1988, he was made a fellow of the Royal Society of Medicine in Britain. Dr. Chambers served on the Northwest Hospital board and the Board of Physician Quality Assurance for Maryland. He was a board examiner for the American Board of Obstetrics and Gynecology from 1981 to 2001. In that capacity, he was oral examiner for the national board and questioned medical school graduates who were entering the OB-GYN field.
In addition to his son, who lives in Hunt Valley, survivors include another son, Christopher Chambers of Washington; a daughter, Kimberly Chambers of Timonium; a brother, Barrington Chambers of Spring, Texas; a sister, Monica Dachs of Lake Wylie, S.C.; and three grandchildren. His wife of 47 years, the former Jacqueline Louise Barclay, a retired counselor and breast cancer awareness advocate, died in 2005.