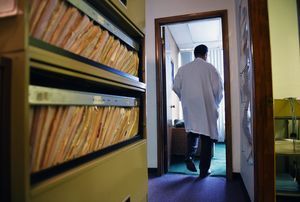 Edwin Chapman's secretary handed him a pile of prescription slips, and the doctor's pen moved quickly across them: "Buprenorphine/naloxone." "Buprenorphine/naloxone." "Buprenorphine/naloxone." His waiting room was full of heroin-addicted patients there to refill their generic prescriptions for Suboxone, a drug that helps keep their relentless cravings at bay and now outpaces methadone as a treatment.
Chapman is an internist, a cardiologist. This drug has transformed his Washington medical practice — now more than half of his patients are there to seek it, addicts edging out elderly ladies with arthritis and diabetes. And the drug, he believes, has transformed lives. He wishes more people could get it. Yet even as heroin use surges in the United States, destroying neighborhoods and families — drug overdoses kill more people than any other kind of accident — both addicts and doctors say there are barriers that keep some from the treatment they desperately need. "In the past we've kind of run away from these patients, put them in methadone clinics, places no one can see them," said Chapman, who estimates that two-thirds of his heroin-addicted patients tested positive for hepatitis C and more than one in 10 for HIV. "We need to reverse that. Put them in primary care. We need to be taking care of sick folks, not running away from them."
Suboxone is controversial. Even among those who strongly support the appropriate use of the drug, there are some who don't want to make it more widely available. The drug, after all, has street value. Patients can sell it to fund a heroin habit, although some experts say "Subs" on the street are mainly used by people trying to fight off withdrawal symptoms, not get high.
But there is plenty of evidence that the drug gets diverted; police seize it, addicts talk about how easy it is to buy. It can cause fatal overdoses if used illegally, especially if combined with other drugs. For the past decade or so, private doctors have been allowed to prescribe it to a small number of patients, as long as they get training from the Drug Enforcement Administration and follow rules intended to keep the drug from reaching the street. The hope was to integrate addiction treatment with primary care and allow patients to get care somewhere that has less of a stigma than a methadone clinic.
Methadone has been used for decades to treat addiction, in heavily regulated clinics that require most people to show up daily for their dose. It's only in the past 10 to 15 years that people have had other options for medication-assisted therapy. Suboxone and its generic form, which people can take at home after getting a prescription from their doctor, have become the preferred treatment for many. It's not cheap. While methadone can cost $3,000 to $3,500 per patient per year, generic Suboxone costs two to three times as much, according to the National Association of State Alcohol and Drug Abuse Directors. But it's a safer drug than methadone, according to the DEA, with less risk of overdose and illegal use.
Suboxone use now far outpaces methadone. In 2012, there were about 312,000 people getting methadone treatment, while about a million people got at least one prescription for Suboxone or its generic, said Robert Lubran, director of the division of pharmacologic therapies with the Substance Abuse and Mental Health Services Administration.The gap would be even greater if Suboxone were easier to get. Every day, the clinic at Johns Hopkins Bayview Medical Center in Baltimore has to turn people away, said Darius Rastegar, one of five doctors there allowed to prescribe Suboxone. Most doctors are not licensed to prescribe it, and many wouldn't be interested in working with heroin addicts. Some insurance companies strictly limit the drug. Medicaid isn't ideal for providers either. It covers the drug but pays only a tiny fraction of the office visit, making it far easier for the well-insured to obtain it than the poor. Many doctors who dispense the drug take cash only. And many just can't take any more patients. Doctors were initially limited to 30 patients; now they are allowed to treat up to 100. There's a bill in the Senate to increase the number of patients doctors can treat. Some of the limits are intended to keep the drugs from ending up on the street, by preventing unscrupulous doctors from running "pill mills" and giving them more insight into their patients' behavior.
There needs to be more monitoring of doctors who prescribe it, not less, said Mellie Randall, director of the office of substance abuse services at the Virginia Department of Behavioral Health and Developmental Services. While some doctors carefully track each patient, she said, there's nothing to ensure that all do. But the patient limits seem arbitrary to some doctors in the field. "We don't have a patient limit for anything else we do," Rastegar said. "I can prescribe oxycodone to a thousand patients." Insurance companies often set dosage limits, and some require physicians to lower dosages as time goes on or take people off the drug entirely. "That's completely unreasonable," said Peter Friedmann, a professor at Brown University's Alpert School of Medicine. "You'd never say, 'Oh, you're obese and you have diabetes, we'll give you insulin for a year. But you have to lose weight: After a year, no more insulin for you.' "
Chapman's practice was unremarkable for many years. A soft-spoken but forthright Howard University graduate, he helped patients manage diabetes, high blood pressure and arthritis, said his nursing assistant, Ellen Blount, who started working for him 20 years ago. But the doctor grew increasingly concerned about the toll drug addiction was taking on his community. He began working in a methadone clinic. "The next thing I know they're in here," Blount said, her eyes widening. "My regular patients were asking, 'What's going on? I really don't want to come to a place where I have to sit with these people!' " Some of their patients are professionals who got hooked on prescription opiates. More of them are long-term, hard-core heroin users. They're shoplifters, drug dealers, prostitutes.
Now, at 68, Chapman is proposing to work with Howard on a more comprehensive intervention for chronic heroin addicts. Chapman has an easy way with his patients such as William Hayes, who started using heroin 40 years ago, when he was 16. Hayes's previous attempts to quit never worked. He didn't like methadone, because to him the drug felt like a shadow of heroin — it teased at a high and made him crave the real thing more. He couldn't afford to try Suboxone, until he got Medicaid through the Affordable Care Act. Hayes laughs with delight when he talks about the drug, which has eliminated his intense craving for heroin. "It's working!" he said. "I ain't been in trouble. I ain't been in jail. I ain't using. Ain't doing none of that." Like many patients, he said the drug steadies him, sets him right. "I feel like a regular person." Not high, not withdrawing, the usual ping-pong of opiate life. Just . . . normal.
In the year or so that he's been taking the generic form of Suboxone, Hayes has gained back 30 pounds. Family members no longer hide their watches, phones and purses when he comes over. Chapman told Hayes he should share his story with his family, with his community. "We all go through things for different reasons," he said, "but we all have a purpose." "I've told a lot of people to come here, to get some Suboxone," Hayes said. "I got two people in so far. The rest of them, they don't have the right insurance." Chapman treated several other addicts the same day he saw Hayes. He gave a counseling referral to a woman who had relapsed over Thanksgiving while grieving her 9-year-old daughter's death from cancer earlier last year. He asked another woman who had relapsed a lot of questions, gentle but firm, about the well-being of her two children. If patients keep showing up with drugs in their system, Chapman cuts them off. He doesn't want to fund their habit. But he thinks a relapse or two, after decades of addiction, is something they may need to be helped through. Another patient talked about all the times he had overdosed on heroin. A mom talked about all the times her father put her two boys in the car and drove around the city, checking the hospitals and the jails, trying to find her. Patients talked about their new jobs, paychecks that hadn't seemed possible without Suboxone. Chapman kept writing prescriptions. His secretary poked her head in the door and handed him a prescription slip. She had just gotten off the phone with an insurance company. "You need to revise this to three a day," she told him, because the pharmaceutical benefits of the patient's plan had changed. "I hope it doesn't affect his stability," Chapman said.He wrote out the lower dose, and handed it back to her.