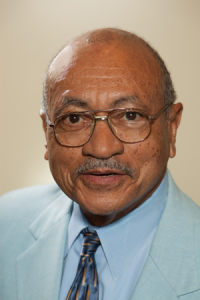 Class of 1964 member, long-time North Carolina Medical Society (NCMS) and Durham-Orange County Medical Society member, and Durham pioneer in medicine, Dr. John Thomas Daniel, Jr. died September 18, 2014 at Duke Regional Hospital. He was 80-years-old.
Dr. Daniel served as a leader in the Durham-Orange County Medical Society, the Old North State Medical Society and DAMDP.  He was a highly respected physician and surgeon and a steward of the Durham community.  He achieved many firsts in his remarkable career, including serving as the first African American President of the North Carolina Board of Medical Examiners, as the Medical Director for the North Carolina Mutual Life Insurance Company, and as Assistant Clinical Professor of Surgery at Duke University Medical Center.
Dr. Daniel is survived by his wife Mrs. Beverly Monk Daniel, a sister Dr. Ida Daniel Dark, three children, four grandchildren, five great-grandchildren and two stepsons.