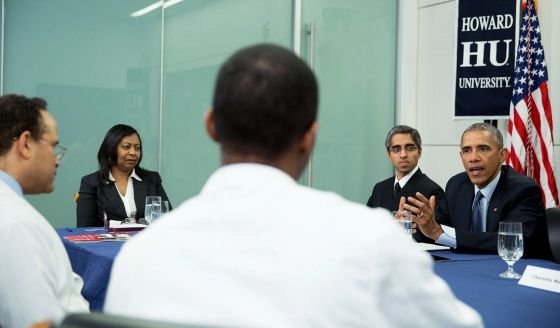 President Barack Obama participated in a roundtable discussion April 7 at Howard University College of Medicine to emphasize the link between a changing climate and public health as part of an effort to boost support for its efforts to reduce greenhouse gas emissions.
President Obama joined U.S. Surgeon General Dr. Vivek Murthy, EPA Administrator Gina McCarthy and Interim Dean Edward E. Cornwell for a roundtable discussion on the topic as part of National Public Health Week."
I think we've always known -- or at least in the 20th century we've understood -- that environment has an impact on public health," the President told CNN's Dr. Sanjay Gupta."
I remember when I first went to college in Los Angeles in 1979, the air was so bad that you couldn't go running outside," Obama said. "You'd have air quality alerts, and people who had respiratory problems or were vulnerable had to stay inside. We took action, and the air's a lot better."
"There are a whole host of public health impacts that are going to hit home, so we've got to do better in protecting vulnerable Americans," Obama continued. "Ultimately, though, all of our families are going to be vulnerable. You can't cordon yourself off from air or climate."
Murthy revealed to the group that asthma is a personal issue for him, as a favorite uncle died from a severe attack when he was younger."
It's also personal to me because I've cared for many patients over the years who have suffered from asthma and have seen firsthand how frightening it can be to suddenly be wheezing and fighting for every breath," Murthy said. "Asthma can be very difficult for patients, but also for their families. The impacts of climate change could make the situation worse."
"This is not just a future threat -- this is a present threat," said Brian Deese, a senior adviser to the President. Deese also cited a recent study by the American Thoracic Society that found seven out of 10 doctors reported climate change is contributing to more health problems among their patients.
Obama designated April 6 through 12, 2015, as National Public Health Week and his administration used the opportunity to highlight the health impacts of climate change. As part of its outreach efforts, the Obama administration is releasing more than 150 health-related data sets through its Climate Data Initiative that can be used by researchers to identify and minimize the impacts of climate change. It will also present a Climate Change and Public Health Summit later this spring, and the Department of Health and Human Services will release a Health Care Facilities Toolkit through its Sustainable and Climate Resilient Health Care Facilities Initiative to improve health providers' access to data on climate change and health.
A large portion of the White House's latest climate push will focus on outreach to public health professionals and engagement with local governments looking to boost their climate mitigation strategies. In addition to Obama's roundtable, the surgeon general will participate in a White House Climate Change and Health Summit this spring and the Centers for Disease Control and Prevention will release its Adaptation in Action Report, which spotlights successful steps taken by state and local officials to reduce the health impacts of climate change.
The White House also announced that the deans of 30 medical, public health and nursing schools had committed to training upcoming doctors and nurses to better address the health impacts from climate change."
The good news is that, in addition to having doctors and nurses, public health officials, schools of medicine joining together to raise awareness -- and to in some cases impact their practice -- they anticipate, for example, increased asthma instances, and plan ahead of time to deal with those," Obama told Gupta. "What we have is companies like Google and Microsoft that are going to take data we're releasing and start developing apps so that, potentially, individual families are going to be able to monitor the air quality in their communities in a real-time basis."
"Communities can start planning for prevention and mitigation efforts more effectively, and hopefully the other thing that happens is that families and parents join with these doctors and nurses to start putting some pressure on elected officials to try to make something happen to reduce the impacts of climate change," said Obama.