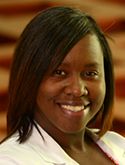 Colibri Jenkins, MD, has joined Merit Health River Region's staff as a board-certified general psychiatrist on the inpatient behavioral health team at the West Campus.
Jenkins' areas of interest are in adult and child psychiatry services with a special focus on adolescent behavioral health issues. She earned her medical degree from Howard University College of Medicine in 2007, and completed her general psychiatry internship and residency as well as her post-doctoral fellowship in child and adolescent psychiatry at Tulane University School of Medicine in New Orleans.
She spent one year in Washington, D.C. working with Senator Ron Wyden's Office as part of the Jeanne Spurlock Congressional Health Policy Fellowship. Jenkins holds a bachelor's degree in Biology from Tougaloo College, where she graduated Cum Laude and is a member of the American Academy of Child and Adolescent Psychiatrists and the American Psychiatry Association.