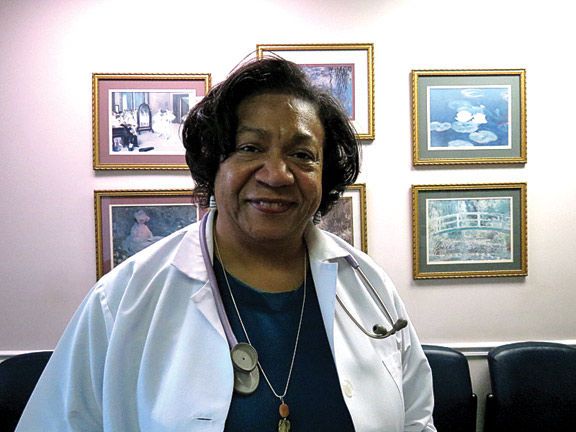 Inside the doors of Med First and C&C Medical in Fort Oglethorpe, Georgia, two doctors and 12 other medical professionals spend their days treating patients for emergencies, injuries, ongoing health conditions and routine health maintenance.  The joint facilities are owned by Connie Couch, who is so pleased with her staff she beams when she talks about them. "Everyone works together beautifully," she says
Dr. Dayle Hawthorne, personifies that, says Couch. "If Dr. Hawthorne sees you even once, she'll remember everything about you forever. She really cares about her patients."
Hawthorne comes from a tradition of medicine — her father and grandfather were doctors and her mother a registered nurse. After attending Howard University in Washington, D.C., she moved to Atlanta where she became the first graduate of Morehouse School of Medicine's family practice residency.
"Partnering with a person to take joint responsibility for their health," says Hawthorne, "is a privilege. I love working with someone over the course of their lifetime." Hawthorne says Morehouse trains doctors to see an individual as part of a family and a family as part of a community. The school strongly encourages its graduates to practice medicine within the state of Georgia.
Besides practicing family and urgent care medicine, Hawthorne is an herbalist, has studied Chinese medicine and has a passion for nutrition. She's been with Med First for 18 years.
Med First and C&C Medical boast five exam rooms and an operating room where they do suturing, biopsies, set broken bones, remove lesions, treat burns, and much more. They do x-rays, EKGs, blood tests, blood pressure and sugar tests and provide both walk-in emergency care and appointment-only primary care.
"We go off-site, too," says Couch. Clinic doctors and staff go to schools where they do sports physicals and to companies where they offer everything from flu shots to biometric screenings.