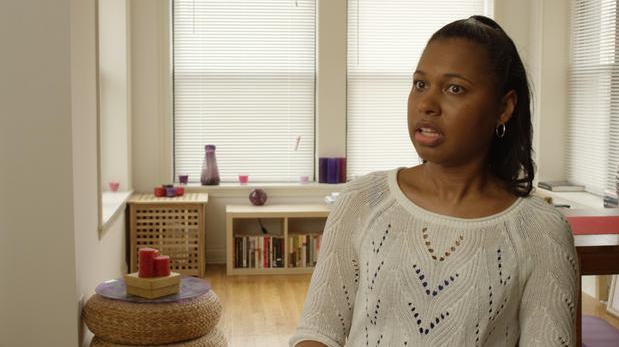 Over the course of her medical career, Diana Cejas has worked with cancer patients and stroke victims. It's to be expected -- she is, after all, a doctor. But she has unique insight into what those patients experience. Cejas is a cancer and stroke survivor herself. Ever since she was a little girl growing up in the small town of Rougemont, North Carolina, Cejas knew she wanted to be a doctor. She earned degrees in biology and physics, a masters degree in public health, got her M.D. from The Howard University School of Medicine and did a residency in general pediatrics at Tulane University.
It was during her second year of residency that Cejas noticed a lump forming on the right side of her neck. She thought it might be a minor infection and took antibiotics, but they didn't help. Her med school colleagues and doctors told her not to worry. "Med students are hypochondriacs," she thought, but something didn't feel right. Some days she was light headed and began getting bad headaches. She even fainted a couple of times. Eventually she pressed her primary physician for a CT scan.
The scan showed a carotid body paraganglioma -- a rare type of tumor that forms near the carotid artery in the neck. In May of 2012, she had surgery to remove the tumor. "It wasn't a thought that it could be cancer," Cejas says. "It was a thought that I have this tumor and I have to get it out and I'm going to have this ugly scar and that's the end of it."
When Cejas returned a few days after surgery to have her stitches removed, doctors told her the tumor was cancerous. It had metastasized to nearby lymph nodes and Cejas needed a second surgery -- called a modified radical neck dissection -- to remove the lymph nodes and other tissue below the skin from the right side of her neck."
[When] you finally realize what a cancer diagnosis really means... you get sad, you're confused, it's a lot of anger," says Cejas. "I could understand it because I have the medical background, but it's one thing to know what something is objectively and it's another thing to have to deal with it yourself."
The second surgery would leave her with a more prominent scar, and she'd need to go in for regular checkups -- but once the procedure was over, Cejas thought the hardest part of the cancer experience would be behind her.On July 3, 2012, her surgeon was nearly finished with the neck dissection procedure when he noticed her carotid artery was, as he explained it later, "leaky." When the surgeon attempted to repair the vessel it fell apart. Vascular surgeons were called in but they were unable to repair the artery and instead put in a graft, or artificial blood vessel. Cejas woke up from the surgery feeling groggy but otherwise fine.Later that night, she began to feel confused and angry. "I don't have a reason to be [angry]," she recalls thinking. "I'm not really in pain, this doesn't make sense... then things kind of get hazy from there."
A little after midnight on July 4, 2012, Cejas began having a stroke. She was rushed to emergency surgery where doctors found the artery graft had clotted, restricting blood flow to part of her brain.This time when Cejas woke up, the left side of her body was paralyzed. She couldn't move her left arm or leg. The side of her face was drooping. She couldn't eat or even swallow.
After a surgery, a cancer diagnosis, a second surgery and a stroke -- Cejas' life had been turned upside down. Just weeks before she had been working grueling 15-hour shifts as part of her residency. Now, she had begin re-learning basic functions. She took her medical knowledge, and the determination that helped her achieve so much as a doctor, and focused it on recovery.
She began intensive therapy immediately. Within seven days of her stroke, she could move her left leg, shoulder and wrist. After two weeks she was able to eat and swallow. Her speech got clearer after a month.Now, she's able to walk, talk and eat normally. And while her left hand will always be slightly impaired, she doesn't notice other symptoms of her stroke unless she gets very tired or sick. But the experience is always with her. "It's every day I remember that I had a stroke," she says. "It's just a little bit less frequent now than it was before."
A recent MRI showed Cejas is also cancer free. Her severe medical problems a temporary hurdle to overcome as she continues her already impressive career.She remained in her residency program at Tulane, completing it in 2013, and is now a second-year fellow in the child neurology training program at the University of Chicago. During the first year of her fellowship, she often worked with adult stroke victims. Many of them had symptoms just like her own. She says she's more understanding with all of her patients than she used to be. She knows what it's like to be in that bed. She knows how hard it can be. And she knows what it takes to get better."
It can be very overwhelming sometimes to think about all of this stuff that happened," Cejas says. "And sometimes dealing with these patients it puts me right back there. But I have to kind of step back and say, 'That's OK. I was there, now I'm not. Let me get you to where I am. Maybe I can help.'"