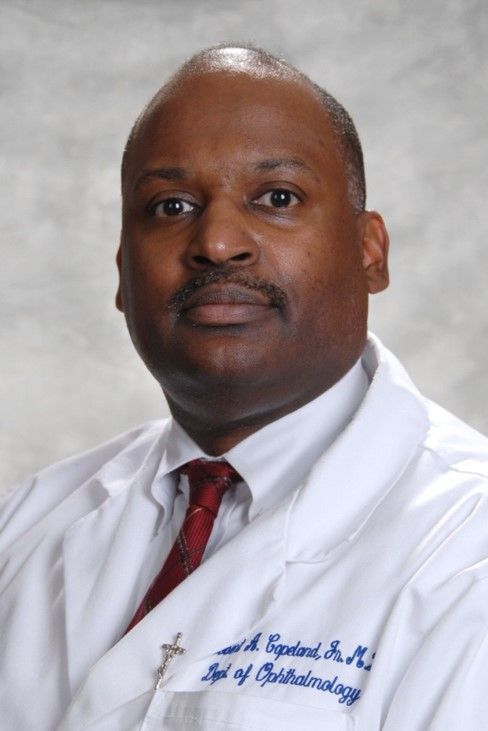 Dr. Robert Copeland founding chairman of the Department of Ophthalmology at the Howard University College of Medicine, died on Monday, April 11, 2016. He was 60.
Dr. Copeland contributed more than three decades of service to Howard University. In 1982, he arrived at Howard University Hospital as a young ophthalmology resident. Four years later, he joined the Howard University Department of Surgery, Division of Ophthalmology, as an instructor. He was promoted to assistant professor in 1988 and to full professor in 2010.
Dr. Copeland served as interim chief of the division from 1993 until his campaign to make ophthalmology a stand-alone department was successful in 2000. He was named chair in the document ratifying creation of the Department of Ophthalmology by the Howard University Board of Trustees. Copeland has written multiple papers on corneal and external diseases, uveitis, and other diseases of the eye. His research focused on conditions affecting the eye, as well as the socioeconomic and gender disparities in cataract surgery, including factors such as insurance coverage, transportation and other barriers to access. In 2012, Copeland published Copeland and Afshari's Principles and Practice of Cornea, a definitive textbook on the cornea, in conjunction with a Duke University professor.
He also traveled throughout the world to perform humanitarian services for underserved populations. He served the people of Haiti, Saint Lucia, Ghana, Egypt, Ethiopia, Chile, Liberia, Nigeria and India.
Throughout the years, Copeland's work has drawn numerous awards and accolades. He was frequently honored by the American Academy of Ophthalmology, garnering the Distinguished Service Award, Achievement Award, Council of Appreciation Award, Surgery by Surgeons Award and the Secretariat Award.
Copeland was frequently listed as a "top doctor" in major publications. In 2008, he received the Professional Service Award from the Prevention of Blindness Society of Metropolitan Washington; and in 2013, he garnered an Alpha Omega Alpha Honor Medical Society nomination. At Howard University, Copeland was honored at the Ninth Annual Spirituality and Medicine Seminar in 2005. Howard also honored him with a Citation of Achievement Award in 2008.
He was a member of Kappa Alpha Psi Fraternity, Inc. He is survived by: his parents, Edgar and Joy Dudley; wife, Candie Copeland; children, Kennedie Copeland, Robert Copeland, III, and Lucas Copeland; brother, James D. Copeland (Pamela); mother-in-law, Janice Lucas and brother-in-law, Michael Lucas.