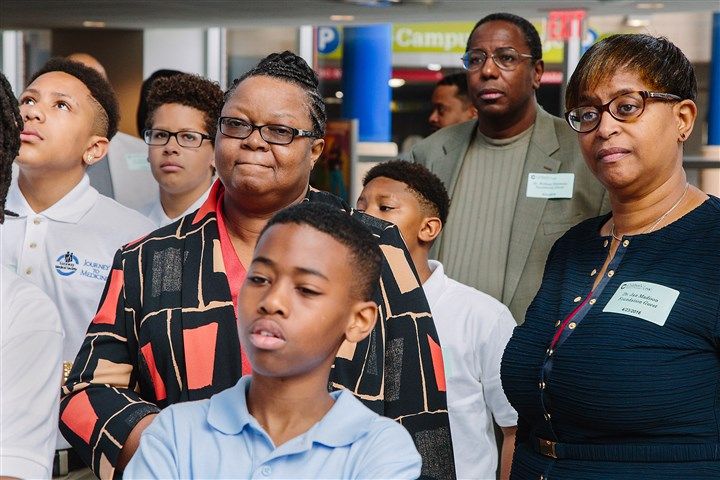 The odds of a young African-American male growing up to go to medical school and becoming a doctor are not high in this country, but William Simmons, Anita Edwards and Jan Madison believe they have a cure for that.
Through the Journey to Medicine program of the Gateway Medical Society — a local group made up of black physicians — the three doctors are mentoring nearly 100 youths who have come into the program over the past seven years. The teens are taught about medicine, encouraged to achieve academically, coached in math and science, taken on field trips and nurtured in various life skills.
The program has accepted 15 sixth-graders every year since 2010, and each group continues in Journey to Medicine year by year while proceeding toward high school graduation. There are now seven different groups, including 10 high school seniors after five in the first class stopped attending along the way. No one knows whether the participants will actually become the physicians of tomorrow, but their mentors are already proud of one thing — all of the seniors will be attending college in the fall.
"It has probably exceeded expectations — I think we would have been happy with just five from the first class [of 15] to make it this far, and we've got 10," said Dr. Edwards, medical director for Gateway Health.
Dr. Madison is a pulmonologist with Pittsburgh Pulmonary & Critical Care Associates. Dr. Simmons, an anesthesiologist at UPMC Shadyside, is also president of the Gateway Medical Society.
The three have served as steering committee members of Journey to Medicine since founding it. They are also the key student mentors and program planners volunteering their time every week to create a path to success for teens — in many cases from single-parent households and troubled neighborhoods — who might otherwise be mired in the same difficulties that trap many of their peers.
Their collaboration has earned Drs. Edwards, Simmons and Madison the Jefferson Award for Public Service Team Award, which was established a few years ago to recognize joint volunteer contributions. The award is part of the annual program that honors super volunteers in the region.
"African-American males are the group with the lowest representation in medicine, and this group had a vision to change that," said Rhonda Johnson, a pediatrician and Gateway Medical Society board member who nominated them for the award. "They've all spent hours and hours of their time teaching and being involved, whether in summer or winter, weekdays and weekends."
The three doctors, assisted by other health care professionals serving as guest speakers or volunteer mentors, take turns running the monthly weeknight meetings of each of their seven groups and pitch in with one another on Saturday sessions when multiple groups get together.
The agenda may consist of medical specialty presentations, hands-on training such as learning CPR, tips for academic success, learning life skills such as public speaking, and guidance on how to present themselves for jobs or anything else that may help mold them into successful young men. The youngsters are encouraged to pursue the most challenging courses available in their schools, and they receive tutoring that helps meet those rigors when necessary.
"They've taught us a lot of things about how to keep ourselves organized," said JiJuan Matthews, a 10th-grader and Pittsburgh Allderdice student from Lawrenceville. "They stay on you, because they want you to do well, and they make sure you actually do your best."
Grants from multiple sources, most notably The Heinz Endowments, have helped keep Journey to Medicine functioning, but the funding would mean little without the volunteering of three leaders who have to fit it into their already full schedules as medical professionals.
Assessing what they've seen out of the boys in the midst of becoming young men, whom they also expect to follow through college, the trio have no doubt it's been worth it. And while they're curious to see how many might enter medical school in a few years, that won't necessarily be the true barometer of the program's success.
"Even if they decide to go into a master's program like engineering," Dr. Simmons said with a smile, "I would not be disappointed, because I don't think it's something they otherwise would have done."
Locally, the Jefferson Awards program is administered by the Pittsburgh Post-Gazette with sponsorship by Highmark and BNY Mellon.