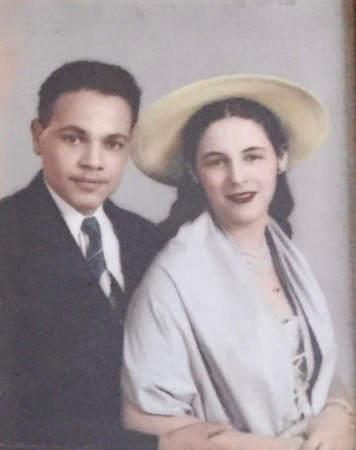 Leroy Bradford Brown, Sr., M.D. was born on 6/5/29 in Detroit, Michigan, to Allie Brown and Fannie Hubbard Brown. With his older brother Herbert "turtle dove" Brown, the family lived in Detroit where his father, an engineering graduate, worked for the Henry Ford Motor Co.  Sadly, when Leroy was just one year old, his father died of meningitis.

Unemployed, Fannie took her two sons to her ancestral home in Orangeburg, SC, where life was ruled by the strict law and order of his grandfather, Charlie Hubbard, also known as Boss Charlie. Born in slavery just two years before the end of the Civil War, Boss Charlie owned a 400-acre farm, where Leroy became convinced that only an education would save him from a life spent plowing and viewing the backside of a mule. Exceptionally intelligent and hard working, he completed high school by age 14 and hoped to go to college. However, after falling out with Boss Charlie over his wages, he was sent back to live with his mother, who had by that point remarried. Rejected by his stepfather, he began living and working with his uncle Robert "Ebbie" Hubbard, who trained him to be a master carpenter, a skill he would utilize the rest of his life. 

At 17, Leroy enlisted in the military just after the end of WW II. He joined the Marines, because a recruiter told him that African Americans were allowed to fly fighter planes. However, upon starting boot camp at Camp LeJeune, SC he discovered the recruiter had been lying, and he wouldn't be allowed anywhere near the planes he so wanted to fly. Eventually, he was honorably discharged as a Corporal in 1952. 

While he couldn't fly the planes he loved, he did pursue the greatest love of his life, for it was in the Marines that he first glimpsed the photo of a young woman named Ola Augusta Watkins. Mesmerized by the woman with the flowing black hair, he begged her brother Price Watkins for her address, and promptly began writing to her faithfully. The first time he got military leave he went to meet her and immediately proposed, but she said no. Disappointed but persistent, Leroy continued to write.
Returning to Mississippi on a second leave, Leroy proposed again. His prospects were improving—this time, she said maybe. Asking what it would take to get a yes, Ola said she always wanted to marry a doctor. Leroy, who had been hoping to become an aeronautical engineer, quickly let her know that it was his lifelong dream to become a doctor. She finally said yes, and taking no chances, Leroy whisked her across the state line to Arkansas where one could get married in a day. They were married on January 3, 1952.  

Leroy, now in college on the GI Bill, discreetly changed his major to chemistry and started applying to medical school. He graduated from South Carolina State College with all A's except for a C in French (and if you had heard him speak it, you'd be amazed he was even able to get a C).

Leroy was accepted to the Univ. of South Carolina School of Medicine, a 'whites only' school. When the notorious segregationist Senator Strom Thurmond, heard this, he arranged for Leroy to receive a unique offer: the state would pay his tuition if he attended the local 'black only' medical school. Leroy raised the stakes: he would take the tuition only if he could go to the prestigious Howard University in Washington, D.C. So Leroy received $500 annually from the state of S.C. while Ola worked at the Seventh-day Adventist hospital to cover their remaining expenses. During that time, Leroy B. Brown, Jr. and Rene Brown, were born. Leroy often dragged his sleepy boys to medical school with him, where he graduated with a specialty in Internal Medicine.  

Leroy completed his internship at Fresno County Hospital where his daughter Rita B. Bermudez was born. A year later, they moved to Sacramento. Working side by side, Leroy and Ola opened a private practice in internal medicine. Ola was the nurse, receptionist, typist, and 'the boss'. Concurrently, Leroy worked for the Dept. of Corrections as the prison doctor.  Leroy finally took flying lessons and fulfilled his life-long ambition to become a licensed pilot. This led to his career as an FAA medical examiner, where he was able to share his love of aviation and God with the pilots who were his life-long friends. He purchased a Beechcraft Baron and Super Cub, and with Ola in the co-pilot's seat, they crisscrossed the country numerous times. 

In 1964, Leroy and Ola, with the help of their children, began building the house of their dreams along the Sacramento River. For seven years, they both came home from their office to work on their home. But what a home – finely constructed with steel foundation, brick exterior, hard wood flooring, and wood paneling - it was everything Ola wanted. 

In their 60s, both Leroy and Ola took up karate with their grandchildren EB and Justin Bermudez. All four earned their black belts, with Ola even karate-chopping a board with her elbow on one memorable occasion.

First and foremost, Leroy and Ola enjoyed sharing their love for God. During his many years of medical practice, Leroy would often recollect numerous stories about his "dear heavenly Father," and how much he loved Him. Both were members of the Church of God 7th day where Leroy, being an orphan himself, started the widows and orphans fund. 

Leroy will be deeply missed by his family and friends for his strong values, generous nature, and, above all, the deep and everlasting love they had for each other. Preceded in death by their oldest son Leroy Bradford Brown, Jr., they are survived by their two younger children, Rene Brown and Rita Brown Bermudez, and their six grandchildren Daniel Brown, EB Bermudez, Kathryn Brown, Justin Bermudez, Augusta Brown, and Tamara Brown, in addition to a large extended family which includes many pilots, patients, and colleagues.