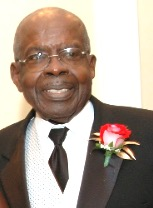 Dr. William N. Ricketts was born in Jamaica, West Indes, educated at Howard University BS '48, Howard University College of Medicine MD '52, and was a Freedman's Hospital surgery resident in 1959.

Dr. Ricketts was a surgeon servant to the underserved in the greater Los Angeles area for over forty years. He was a loving husband of sixty-five years to Vera L. Ricketts, father of Renee, Verlie, Vicky,and Wendy; grandfather of Candice, Tommy, Stirling and Chloe and great-grandfather of Jaela. 

Dr. Ricketts transitioned on Friday, December 23, 2016 at the age of 92. He was a stalwart member of the Howard University Medical Alumni Association (member of the last medical school class instructed by Dr. Charles Drew), the National Medical Association (where his wife Vera is a Past National Auxiliary President) and the Surgery Section of the National Medical Association (of which his daughter Dr. Wendy Ricketts Greene is currently chair). He has touched numerous lives here and abroad. He was always willing to open his home and medical practice to strangers, family, and friends in need. He was a gentleman and a scholar.  

In his final years Alzheimer's amplified his wit and charm. Outward expressions of affection and appreciation for all who cared for him would be followed by a heartfelt thank you, a loving kiss, and a reminder to all that "He loves you dearly."