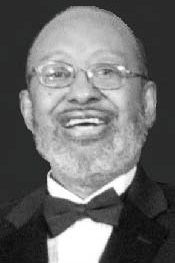 Dr. William E. Brown's breath of service to the medical profession and to others is unprecedented.  He used his knowledge and energy to make significant contributions in medical administration and leadership.

Dr. Brown was born in New York City and was educated in the public schools, attending the prestigious Stuyvesant High School and the City College of New York (CCNY). William excelled in Track and Field in both high school and college, earning Varsity Letters. Majoring in biology and chemistry at the City College of New York, he developed a flair for politics and was elected to every office in CCNY's Student Government except Secretary. During his senior year, he served as CCNY's Student Government President.  

His mother, Elizabeth, and his stepfather, William H. Bell, instilled in him a drive to succeed and to give something back to others. This early emphasis on service greatly influenced his work in the medical profession and service to his community. Often characterized as "one who marches to the beat of a different drum," his choice of a profession was an early indicator of interest and service to others.  After earning his Master's degree in Human Relations from New York University, he decided to switch gears completely and pursue studies in medicine. Dr. Brown's medical training began in 1960 at Howard University College of Medicine. During his freshman year, the "drum beat" sounded again. Dr. Brown became intrigued by Dr. Edward Hawthorne's Physiology Research Laboratory and began spending as much time there as in the anatomy lab. For the next two years, he would be registered, both at Howard University's graduate and medical schools.  Eventually, medicine won out and Dr. Brown graduated with a medical degree in 1966.

The next influence in shaping his career was Dr. F. J. Clark, former Chair of Obstetrics and Gynecology at Freedman's Hospital. After graduating from medical school, Dr. Brown was accepted as an Obstetrics and Gynecology resident at Freedman's Hospital. During his residency, Dr. Brown was accepted into The Berry Plan, that guaranteed completion of residency for two years of military service. During his second year of residency at D.C. General Hospital, a mutual friend introduced him to Hattie Irene Carey, who became his bride and they continue to enjoyed forty-eight years of marriage. In 1971, Dr. Brown began his military service as a Major in the United States Army at Fort George Meade in Maryland, spending his third year as Chief of Obstetrics and Gynecology Service. While still in the military, in 1973, Dr. Brown became a Diplomate of the American Board of Obstetrics and Gynecology and in 1974, he became a fellow of the American College of Obstetrics and Gynecology.

In 1974, he returned to Howard University where he served as Assistant Professor for the Department of Obstetrics and Gynecology. He also served as Director of Medical Services from 1974 to 1977, Project Director from 1977 to 1978, and Medical Director from 1981 to 1987, at the Center for Family Planning Services of Howard University Hospital.  From 1984 to 1986, Dr. Brown served as President of the Medical Dental Staff of Howard University Hospital, as well as President of the National Capital Medical Foundation (Professional Services Review Organization). In 1984, Dr. Brown served as President of the Medico-Chirurgical Society of the District of Columbia. Dr. Brown has been active in the Medical Society of the District of Columbia and served as the Alternate Delegate of the American Medical Association (AMA) House of Delegates from 1981 to 1992. He was the first Chair of the Hospital Medical Staff Relations Committee from 1987 to 1988. Dr. Brown was elected Executive Secretary of the National Medical Association (NMA) from 1986 to 1989; and Secretary of the NMA's House of Delegates from 1991 to 1993. He Chaired the Committee on Administrative and Fiscal Affairs of the House of Delegates from 1990 to 1991; and for several years beginning in 1999, served as the Parliamentarian of the Obstetrics and Gynecology Section.Dr. Brown served as a member of the Executive Board, Howard University Medical Alumni Association (HUMAA) from 1990 to 1993, as Treasurer from 1993 to 2000, and as President from 2000-2002. As an active member of the Daniel Hale Williams Reading Club since 1984, he was President for several years beginning in 1999.  Demonstrating his profound interest in improving his community, Dr. Brown served as President of the Organization of Black Progress.

Over the years, Dr. Brown professional appointments have included: Consultant to the Montgomery County School System on Prevention of Teenage Pregnancy; Member of the District of Columbia Commission on Licensure for the Healing Arts, 1984 to 1986; District of Columbia Board of Medicine, 1989 to 1999.  He served as Vice Chair, 1994 to 1995 and Chair, 1995 to 1998.  While serving on the Commission in 1986, Dr. Brown was appointed to the Department of Human Services (DHS) Director's Task Force on Birthing Centers.

If all of his affiliations, positions and appointments both locally and nationally were included, they would only tell a small part of Dr. Brown's legacy.  His desire to give something back to others went beyond institutions and organizations.  In 1992, when the American Medical Association failed to adopt a proposal that would  have made it an ethical duty to care for the poor, Dr. Brown was quoted by the Chicago Sun-Times, "I rue the day when [Doctors] come out against giving care to the poor."  
Dr. Brown's achievements would not have been possible without the love and support of his family, Hattie, Bill Jr. and his daughter, Leslie, who in 1999 became a living donor for her father's kidney transplant.Dr. William E. Brown, M.D.'s impact on Howard University's medical and academic community is profound and prolific, but only second to the impact that the Howard University community has had on him.

The funeral for Dr. William E. Brown, Class of 1966, will be held on Friday, March 10th. There will be a viewing/family hour from 9.30am. The service will begin at 11am at Howard University's Andrew Rankin Chapel, 6th Street NW & Howard Place NW, Washington, DC 20059. 

In lieu of flowers, donations may be sent to to the William E. Brown MD Memorial Scholarship Fund at HUMAA, 2225 Georgia Avenue NW, Suite 801, Washington, DC 20059.
 
The burial will take place at St. Paul's Rock Creek Cemetery, 100 Allison Street NW, Washington, DC 20011 following the service. A repast will follow the burial. Messages of condolence can be sent to Mrs. Hattie Brown at 3144 Gracefield Rd Apt 207, Silver Spring, MD 20904-5880.