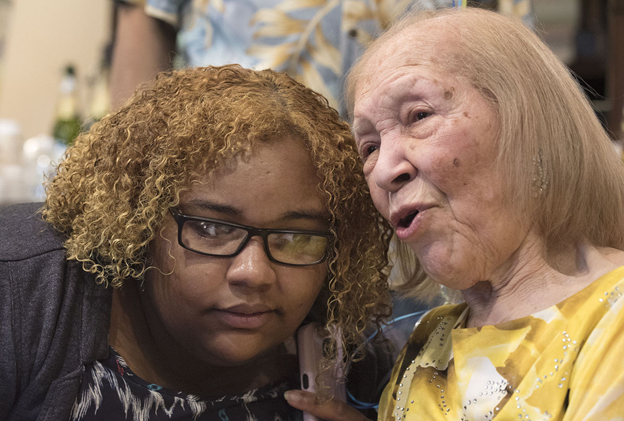 When Dr. Blanche Bourne-Tyree was born, the U.S. had just entered WWI. The Frederick woman celebrated a century on the planet as friends and relatives from as far as Rhode Island and even Japan reflected on her legacy in the medical field.

Dr. Bourne-Tyree, who turned 100 on May 18th, is credited with being the first woman in Frederick County to hold a medical license.

Well-wishers gathered at Northampton Manor in Frederick became emotional when speaking about the impact Bourne-Tyree has had on the community, but she was somewhat demure on the subject of her legacy. When asked if she had words of wisdom to share, she laughed and said she didn't.
"I can't believe I made it," she said. "I can't stop crying, but I'm happy."

Bourne-Tyree was one of five women to graduate from Howard University's College of Medicine in 1941. She worked as a pediatrician in St. Louis and Cincinnati, then moved on to become the deputy director of public health in Washington. Bourne-Tyree moved back to Frederick in 1979.

Firsts run in her family. Her father, Dr. Ulysses Grant Bourne, was the first African-American doctor in Frederick. He established the only hospital to serve African-American patients in Frederick at the time, the 1920s.

In 2014, the Frederick County government dedicated 355 Montevue Lane as the Bourne Building in his honor. "She adored her father," her cousin Delma Bourne-Parran said. "She's always continued her father's legacy of service to others."

Her great-nephew, Alec Jordan, traveled to Frederick from Japan to attend the celebration. "It means so much to be able to see her surrounded by so many friends," he said. Looking back on his time with her, he said, he always remembered her elegance, intelligence and grace.

Friend and Living Treasures founder Joy Olney said Bourne-Tyree made an impression "always dressed to the hilt." Bourne-Tyree cut a festive figure Thursday in a yellow floral top speckled with sequins and black patent leather shoes. Purple balloons were tied to the handle of her wheelchair. Frederick Mayor Randy McClement and a representative of Howard University presented Bourne-Tyree with certificates honoring her service to the community at her party. Dr. Wayne Frederick, President of Howard University, included a letter commending her for paving the way for black women in medicine.