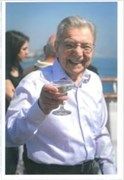 Dr. Paul Guth, Class of 1949, passed away on Tuesday, July 4, 2017. Dr. Guth was born in Brooklyn, NY and was raised in Manhattan. He attended NYU and received his medical degree from Howard University College of Medicine. After receiving his medical degree, Dr. Guth went on to complete his training in gastroenterology at Temple University. It was there that he met Rachael Klonymus. In 1953, they married in Philadelphia. 

In 1957, the couple moved to Southern California, where Dr. Guth began his successful 40-year career in academic medicine. Dr. Guth worked at the LA VA Medical Center, where he trained hundreds of scientists and GI fellows. Dr. Guth was known to be compassionate, understanding and patient in both his work and personal life. 

In retirement, Dr. Guth enjoyed spending time with his family. Other hobbies included playing tennis, swimming, and studying Judaism and Philosophy.

Dr. Guth is survived by his wife, Rachael; his children, David, Eve, Esther, and Naomi; his several grandchildren; and many other close relatives and friends.

Services were held on Sunday, July 9, 2017 in Mission Hills, CA. In lieu of flowers, friends and family were asked to consider making donations in memory of Dr. Guth to Valley Beth Shalom and Howard University College of Medicine.