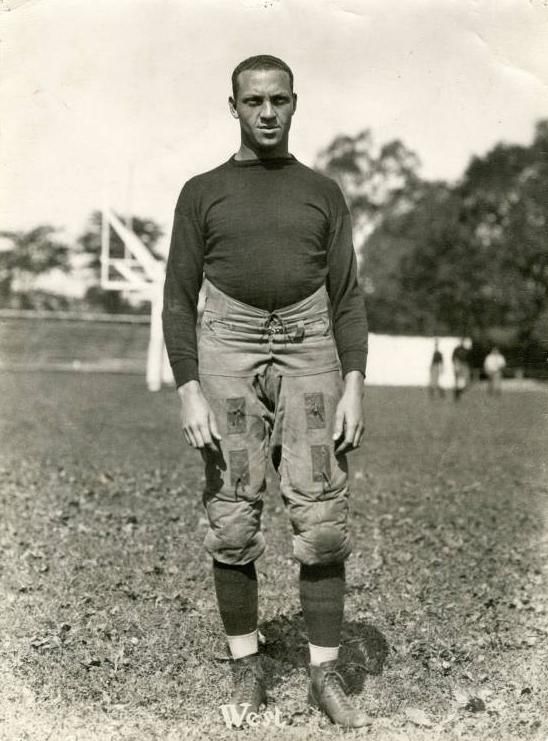 Dr. Charles Fremont West, Class of 1928 has been inducted into the Rose Bowl Hall of Fame. Dr. West was the first African American to play Quarterback in the Rose Bowl. Dr. West played in the 1922 Rose Bowl for a small Washington & Jefferson team from western Pennsylvania against the undefeated University of California. At the time, there were very few black athletes playing on predominately white college teams, and as such, Charles West was seen as a pioneer and sports anomaly. 

During his playing career in the 1920s, West traveled across the country and was often the recipient of racial insults. West's daughter, Linda Nickens, who attended the Hall of Fame Induction Ceremony in his honor, recalls one story in which a shopkeeper in West Virginia displayed a doll painted black, adorned with the colors of West's football team, next to a toy ambulance, insinuating that West would leave the town in an ambulance after what the West Virginia team would do to him on the field. 

In 1923, Washington and Lee, a Virginia college with no black players, insisted they would refuse to play against Washington and Jefferson if West was going to be playing. Taking that into consideration, West's teammates, led by coach John Heisman, all decided not to play and the game was cancelled.

Outside of football, West was a talented track and field athlete who won the National Collegiate Pentathlon at the Penn Relays in 1922 and 1923. West also became a member of the 1924 Olympic team, but did not participate to to an injury allegedly incurred on the boat ride to Paris. 

After graduating college, West signed with a professional football team, the Akron Pros, but only practiced with the team for a week before he found out he was accepted to study at the Howard University College of Medicine. West enrolled, and would graduate in 1928. 

That same year, he started his own medical practice in Alexandria, VA. The practice would remain open for around 50 years, with Dr. West serving patients through both the Great Depression and WWII. Dr. West donated his time to delivering physicals and treating veterans upon their return home. 

Nickens remembers her father fondly, noting that "He found a way to take care of people over and above the medicine." She and her two sons attended Dr. West's Hall of Fame Induction Ceremony on Saturday December 30, 2017, and the Rose Bowl on January 1, 2018.