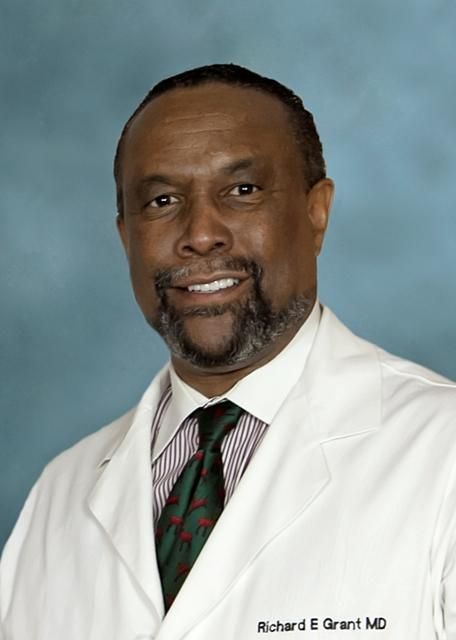 Dr. Richard E. Grant, Class of 1976, has been awarded with the American Academy of Orthopaedic Surgeons (AAOS) 2017 Diversity Award.  

Dr. Grant is currently the attending orthopaedic surgeon in the Department of Orthopaedics at Einstein Medical Center in Elkins Park, PA. In 1971, Dr. Grant founded the Black Pre-Medical Society at Stanford University. He was also the first African-American president of the American Board of Orthopaedic Surgery. 

From 1988 to until 2001, Dr. Grant served as Chairman of the Department of Orthopaedic Surgery and Associate Professor of orthopaedic surgery at Howard University Hospital. Under Dr. Grant's leadership, Howard accepted more female residents into the orthopaedic residency program than any other program in the country. In developing his own approach to educating residents, he drew from his own orthopaedic residency experience at the former United States Airforce Wilford Hall Medical Center in San Antonio, Texas. 

At Howard, Dr. Grant implemented a military-based, disciplined approach and structure to the residency program. As a result, the majority of Dr. Grant's former orthopaedic residents became ABOS certified and practicing orthopaedic surgeons. Greater than 90% of his residents completed a post residency fellowship, specializing in nearly every orthopedic subspecialty across the country.

Prior to accepting his current position, Dr. Grant was the first Edgar B. Jackson Chair for Diversity and Clinical Excellence at University Hospitals Case Medical Center, and was also an endowed professor in the Department of Orthopaedic Surgery at Case Western Reserve University in Cleveland, Ohio. 

On what the award means to him, Dr. Grant said, "The Diversity Award means a great deal to me on a very personal level. The award enhances my faith in God. The 2017 AAOS Diversity Award verifies the absolute need for a viable Howard orthopaedic residency program, which remains the only HBCU oriented orthopaedic residency in the entire U.S."