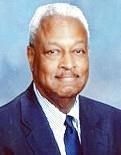 Dr. Frank Wilson, Class of 1961, passed away peacefully on May 30, 2018, following a lengthy illness. Dr. Wilson was born June 14, 1936, to Mr. and Mrs. Frank F. Wilson, II, of Oklahoma City. After completing his medical training, Dr. Wilson served in the U.S. Army as Captain of the Medical Corps and staff OB/GYN doctor at the U.S. Army Hospital of Fort Huachuca, AZ during the Vietnam War. 

In 1967, Dr. Wilson opened his office in Oklahoma City as the first board certified African American physician specializing in OB/GYN. His private practice lasted 30 years, during which time he delivered over 4,000 babies. Dr. Wilson also served as medical director of Planned Parenthood of Central Oklahoma for 25 years and trained future doctors as an associate clinical professor at the OU College of Medicine from 1967 through 2016. Dr. Wilson retired after practicing medicine for 51 years.

Memorial services were held on June 8th and 9th in Oklahoma. In lieu of flowers, donations can be made to the Susan G. Komen Breast Cancer Foundation, P.O. Box 5027, Hagerstown, MD 21741.