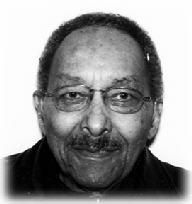 Dr. Harry L. Thomas, Class of 1946, died Thursday, June 14, of lung cancer at his home in East Falls, Philadelphia. Dr. Thomas graduated from Lincoln University in 1939, where his classmates accurately predicted that he would go on to practice medicine. After graduating from Howard University College of Medicine in 1946, Dr. Thomas enjoyed a career in medicine spanning six decades.

During the 1950s, Dr. Thomas worked at Mercy-Douglass Hospital, before joining the staff at Medical college of Pennsylvania. Starting in 1964, he did surgery and taught while operating. "He was a very meticulous surgeon, very tuned into detail," his friend and protege Dr. Pam Scott said. "He led by example and how he interacted with his patients. He was always very kind to his patients, and his patients loved him."

Dr. Thomas was born in Richmond, VA to Delia and Harry Thomas. He grew up in a household consisting of his mother, aunts, and grandfather. The family moved to North Philadelphia, and it was soon evident that the young boy was precocious -- he entered Central High School in Philadelphia at age 12 and graduated with honors at 16. His tremendous drive propelled him to excel not only in academics, but also in basketball, swimming, and skiing.

After graduating from Howard University College of Medicine, he went on to his internship and residency at Freedmen's Hospital. There, Dr. Thomas was mentored by Dr. Charles Drew, a pioneer in special methods of storing blood that saved lives during World War II. 

In July 1946, Dr. Thomas enlisted in the Army to finish his residency at the U.S. marine Hospital outside London. He was named chief of surgery before being honorably discharged in 1950. 

After his military service, Dr. Thomas married Betty Ann Coles. the couple raised two children in Mount Airy. 

In 1988, Dr. Thomas began working as a physician for the city of Philadelphia. He retired from the city job in 2013 at 94 years old. 

Dr. Thomas followed a vigorous lifestyle, swimming several times a week for an hour until he was 97. He skied until he was 96. One of his favorite times of day was martini time. He adhered to the 3:pm ritual until the day before he died.

Dr. Thomas was preceded in death by his wife and a son, Harry C. Thomas. He is survived by daughter Harriet Sue Thomas; two grandchildren, and five great-grandchildren. 

The memorial service was held Saturday, July 14, at St. Vincent de Paul Church in Philadelphia.