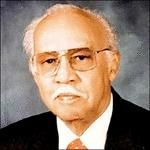 Raimundo Whitfield Rodriguez, M.D. was born September 8, 1922, in Santurce, Puerto Rico, the third child of Artemio Rodriguez and Julia Estelle Jackson. He is preceded in death by his beloved wife, Grace. He is survived by his daughters Elena and her husband Tony Brenna, Roberta Silverman, Grace Linda Daniels; son Thomas D. Rodriguez; sister Miriam and her husband Ronald Spevack.

A funeral service will be held at 12:00 noon on Saturday, July 21, 2018 at Preddy Funeral Home Chapel in Madison, VA with interment in Chestnut Grove Baptist Church Cemetery in Brightwood. Pastor John Hawkins will officiate. The family will receive friends two hours before the service from 10:00 am to noon.
    
To honor his memory, donations may be made to the scholarship fund at HUMAA. Condolences can be left at www.preddyfuneralhomes.com.  

Dr. Rodriguez was raised in Puerto Rico. Many summer vacations were spent with his mother's family in Washington, D.C. At the age of 16, he enrolled at Catholic University. He finished his undergraduate studies at Dickinson College (Carlisle, PA) at age 19. He graduated from Howard University College of Medicine in 1945. He completed his residency in general surgery at Howard University Hospital/Freedmen's Hospital under Dr. Charles Drew. In the 1950s, he conducted early research on heart transplants and other cardiovascular surgical techniques. In the 1960s, he and his late partner John T. Phillips developed a new technique for performing hernia repair on an outpatient basis. In the late 1960s, he took additional training in reconstructive hand surgery. He spent the last three decades of his active career as an orthopedic hand surgeon. After closing his Los Angeles surgical practice in 2001, he worked as a Qualified Hand Surgery Evaluation Consultant. He continued this work until shortly before moving to Brightwood, Virginia in 2012.

His first marriage to Doris West (Howard University, 1942) took place in her home town, Washington. They later moved to Chicago, then Wiesbaden, Germany where Rai completed his military service as a captain in the U.S. Air Force. Stops in Indianapolis, San Juan (Puerto Rico), and San Francisco came before he settled on Los Angeles as the place to live and establish his medical practice.

In 1970, he married Grace Arrington Dent who brought three children to the marriage. Theirs was a long, loving and happy union until her passing earlier this year. Though grieving, he was determined to stay in the home they built together in Virginia, steeped in memories of their shared life: raising children, traveling, attending sporting events, entertaining friends and loved ones. 

Dr. Rodriguez will be remembered by family and friends for his caring attitude and unparalleled generosity to all he met.