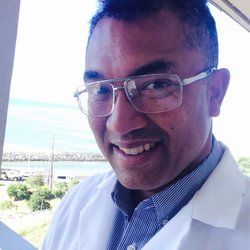 Frank Williams, M.D., FACP, Class of 1985, has been elected a Fellow of the American College of Physicians (ACP). The distinction recognizes Dr. Williams for his achievements in internal medicine.

Dr. Williams completed his residency at Los Angeles County-USC Medical Center. He is certified in Internal Medicine by the American Board of Internal Medicine. Dr. Williams has served as Assistant Clinical Professor of Medicine with the University of Hawaii's John A. Burns School of Medicine and Medical Director of Hamakua-Kohala Health on Hawaii's Big Island. He currently serves as Specialty Director of Adult Medicine for Waianae Coast Comprehensive Health Center in Waianae, Hawaii. 

Dr. Williams has received specialized training across many disciplines of science and has earned certificates in Mass Spectrometry, High Performance Liquid Chromatography, and Molecular Biology Techniques. He is a member of The American Society for Mass Spectrometry. His passion for learning has continued throughout his career, " Education never ends in Medicine. I continue to ask questions and seek answers to those questions" says Dr. Williams.