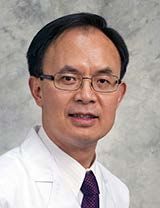 Dr. Guoyang Luo, M.D., Ph.D, has been appointed as Chair of the Department of Obstetrics and Gynecology, effective November 1, 2018. He will join the department as Professor and Chair at the College of Medicine. Dr. Luo has previously served as Division Director of Maternal-Fetal Medicine at the University of Connecticut, School of Medicine. Prior to that, he was the Director of the Center for Perinatal Medicine and interim Maternal-Fetal Medicine section Chief at Danbury Hospital. 

Dr. Luo graduated with honors from Hunan Medical University in China and received his Ph.D. in Microbiology and Immunology at Baylor College of Medicine in Houston. He completed his residency in Obstetrics and Gynecology at New York-Presbyterian Hospital at Weill-Cornell Medical College, and completed his fellowship in Maternal-Fetal Medicine at Yale University. He is board certified in both general Obstetrics Gynecology and Maternal-Fetal Medicine.

Dr. Luo is a fellow of the American College of Obstetrics and Gynecology (ACOG), member of the Society of Maternal Fetal Medicine, American Institute of Ultrasound in Medicine, and guest member of American Gynecological & Obstetrical Society. He holds many international positions, including Guest Professor at Nanning Maternal and Children's Hospital in Guangxi, Shenzhen Maternity and Child Healthcare Hospital in Shenzhen, the third affiliated Hospital of Xiangya Medical College in Changsha, Southern Medical University in Guangzhou, and Shan Dong University in Jinana. Additionally, he serves on the editorial board of Reproductive Sciences, and as an international expert of the Chinese Ultrasound Doctors Association. 

Dr. Luo has won several awards, including the National Faculty Teaching Award, sponsored by the ACOG and the Council on Resident Education in Obstetrics and Gynecology in Danbury. He also received the Amazing Teach Award from the University of Vermont School of Medicine. 

In addition to his busy schedule of providing clinical services and fulfilling his professional and administrative duties, Dr. Luo actively pursues clinical as well as translational research. He has published articles in highly respected peer-reviewed journals and delivered numerous presentations and national and international scientific conferences. His current research interests include vaginal microbiome and preterm birth as well as prenatal diagnosis using fetal cells in maternal body fluid.

Dr. Luo will oversee all educational, research, clinical, and administrative activities of the Department of Obstetrics and Gynecology.