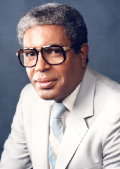 Dr. Abraham S. Anderson, 83, softly passed from this world on the morning of Tuesday, 22 January 2019, of natural causes. He was preceded in death by his mother and father, Ruth Gray and Charles Anderson of Kingston, Jamaica, and his younger brother, Dr. Bernard Anderson of Gondar, Ethiopia.
He is a graduate of Calabar High School, an all-boys secondary school in Kingston, Jamaica, Howard University and Howard University College of Medicine in Washington, DC.
As an immigrant to the United States, Dr. Anderson made historic contributions to the medical community of Southeastern coastal Virginia and North Carolina.
The founding physician of Gynecology Associates, Ltd, in Norfolk, VA, Dr. Anderson grew, together with his colleagues, a medical practice with multiple offices, including in Portsmouth and Chesapeake, VA, predominantly owned and managed by physicians of color. Gynecology Associates became known for its dedicated service and commitment to communities of color and immigrant communities, those without medical insurance, and military families for almost 50 years. He was a champion of a woman's right to choose. In the true spirit of The Physician's Prayer by Maimonides, patients in need were welcomed with open arms.
He served as the Chief of Obstetrics and Gynecology at Norfolk Community Hospital during the last decades of its existence, and later at Chesapeake Regional Medical Center, where a delivery room was dedicated in his honor for his "outstanding service to families" in the community. He estimated that he had delivered over 10,000 babies in his lifetime.
Dr. Anderson was also a longstanding and well-loved member of the Community Faculty at Eastern Virginia Medical School, and was recognized with the Community Faculty Teaching Award by his medical students in Residency on numerous occasions.
A charitable person, Dr. Anderson donated funds, educational tools and medical supplies to organizations in the United States, the Caribbean, Central America, Africa and the Middle East during the course of his life. He made significant donations of land to the University of Miami for scientific research projects, and to a neighboring charitable organization in his native Jamaica. After his retirement, he happily donated professional-grade microscopes to the Homeschool program at the Norfolk Public Library.
Known for his kind and humble demeanor, as well as his soft-spoken intellect and humor, he loved water sports, gardening, woodworking, and travel, and, as a lover of fine cuisine, was quite the amateur chef. He cherished spending time in his native Jamaica, as well as Belize. Towards the end of is life, his spiritual journey continued, as he began to learn and study the Bible and to pray with greater intensity, learning more about the Jewish roots of the Judeo-Christian tradition in which he had been raised.
Dr. Anderson is survived by his former spouse and the mother of his children, Dr. Gloria D. Anderson, of Norfolk, VA; his three children, Ruth Rachel Anderson-Avraham and Joni Anderson of Norfolk, VA, and Anthony Anderson of Virginia Beach, VA; one grandchild, London Robinson of Norfolk, VA, daughter of Joni; his younger brother and sister, Winston Anderson of Silver Spring, MD and Jean Anderson of Annapolis, MD; beloved nieces, nephews, cousins, brothers and sisters-in-law, and extended family, both in the United States and abroad.
Memorials may be directed to Metropolitan – Granby, 7246 Granby Street, Norfolk, VA 23505. Those who desire may make a charitable contribution in memory of Dr. Anderson to UNICEF or to Howard University.