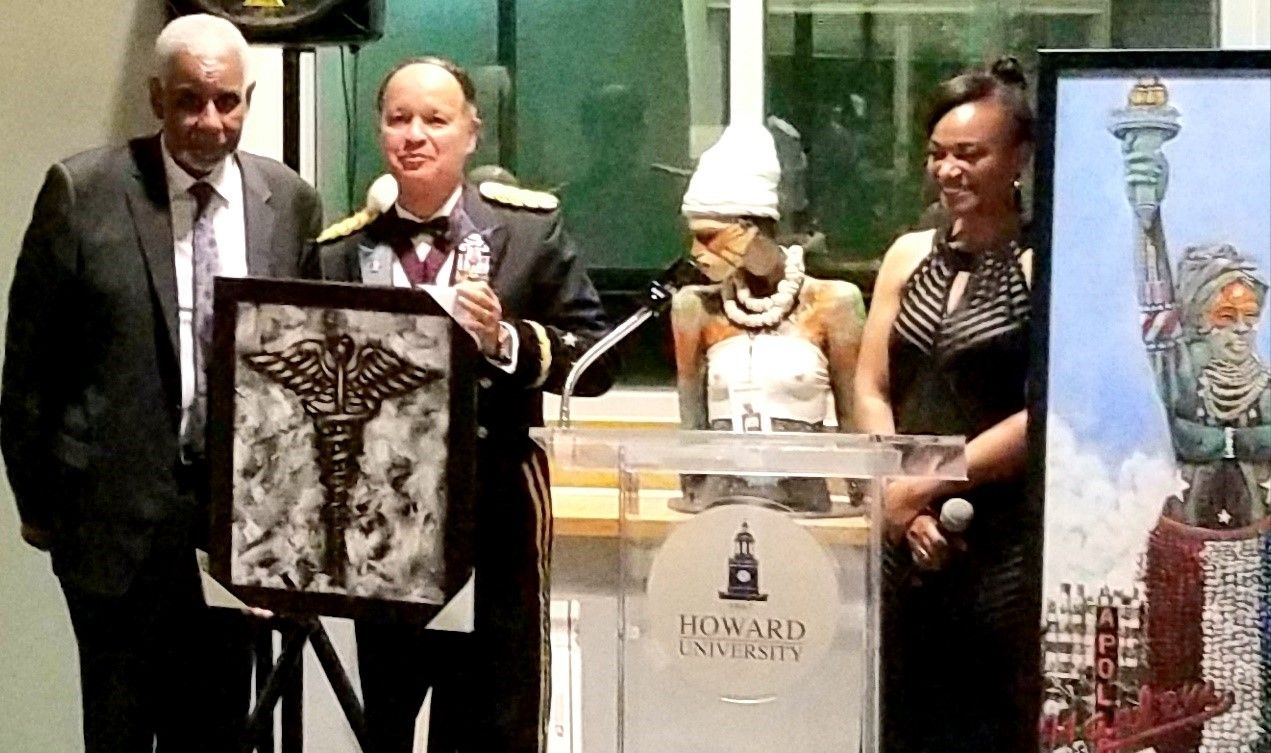 The Harlem Fine Arts Show (HFAS) 2019 Salute to African Americans in Medicine ~ "The Color of Healthcare," hosted their ceremonial dinner to salute African Americans in Medicine, June 15, 2019 at Howard University's Louis Stokes Health Science Library.
 
In their continuing quest to promote health, wellness, and the opportunity for people to live their most productive lives, the HFAS forged a partnership with the medical community that highlights the synergy between art and healing.  An active and stalwart ROCK, Major General (Ret) George Alexander, Class of 1977 was selected for his outstanding contribution to the medical field as well as his outreach in the African American community. According to the HFAS leadership, General Alexander represents one of those heroes in our community and deserves to be recognized. Over 250 guests enjoyed a special evening consisting of a VIP reception, dinner, awards, and an amazing exhibition and sale of African American art featuring over 30 artists and galleries.
Major General (Retired) George A. Alexander, M.D. is a senior executive with over 30  years of progressive leadership that have culminated at the highest levels of government in both the military and civilian sectors.  He holds the distinction of being the highest ranking military medical officer from the U.S. Army, Navy, or Air Force who is a graduate of the Howard University College of Medicine (HUCM).
As the Deputy Surgeon General in the Office of the Army Surgeon General he championed health and medical readiness policies for Army National Guard (ARNG) soldiers.  He served as principle adviser to the Army Surgeon General on all aspects of readiness and structure of ARNG assets.  He advised on the medical readiness, deployability, and health status of over 350,000 soldiers.  His military assignments included service as a medical officer with the 20th Special Forces Group (Airborne), the Green Berets, and as commander of medical units at the company, battalion, and brigade levels.
In his civilian experience General Alexander has held a series of prominent positions.  As Director for Medical and Public Health Security in the White House, he was responsible for medical and public health policies to safeguard the entire U. S. against terrorism.  As Chief, Special Populations Studies Branch at the National Cancer Institute, he provided leadership and oversight of a $50 million cancer intervention research program.   
General Alexander completed premedical studies at Columbia University, and his postgraduate training as American Cancer Society clinical fellow in radiotherapy at the renowned MD Anderson Cancer Center in Houston, advanced biostatistics training at the Johns Hopkins Bloomberg School of Public Health, and the Program for Senior Executives in National and International Security at the John F. Kennedy School of Government at Harvard University. Currently, as president of GA Alexander Solutions, LLC, he provides clients innovative health care solutions that promote success and growth.
As a recipient of the ROCKS Washington, D.C. Chapter's 2018 Lifetime of Leadership Award, MG (Ret) George A. Alexander never stopped mentoring cadets and officers.  John C. Maxwell stated, "One of the greatest values of mentors is the ability to see ahead what others cannot see and to help them navigate a course to their destination."  MG (Ret) Alexander is a visionary and passionate mentor who truly cares about growing and developing those in the Science, Technology, Engineering and Mathematics fields, and regularly attends the Washington, D.C. Chapter of the ROCKS, Inc. chapter meetings where he actively provides mentoring.