Brianna Washington - 2014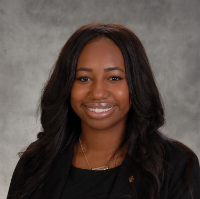 Brianna Washington is a rising third-year medical student at HUCM who attended undergraduate school at the University of Central Florida. She hopes to specialize in pediatrics, psychiatry or family medicine. At the College of Medicine, Ms. Washington serves as the Co-President of the Student Pediatrics Interest Organization. She previously served a Howard liaison for the Academy of American Pediatrics which helped her gain a deeper understanding of the political side of pediatric medicine.
When reflecting on her journey into medicine, Ms. Washington recalls a particular formative moment during her undergraduate career. After staying up late to study for an anatomy exam, Ms. Washington was abruptly woken up by a loud bang outside her apartment. Upon exiting her apartment, she saw that a student had fallen from a 3rd floor balcony to the balcony below. Amidst the commotion, Ms. Washington stepped up to the challenge while others panicked. She quickly found towels and was able to put pressure on the student's head wound until paramedics arrived. Although she had always known she wanted to be a doctor, it was at this moment that she knew she was meant to save lives.
Ms. Washington has also had negative experiences with medicine, but does not shy away from them, instead, she uses them as motivators. Growing up, Ms. Washington recalls that most of her encounters as a patient with physicians were cold and disconnected. Ms. Washington feels driven by her empathetic nature and strives to be different from these physicians. Ms. Washington has also spent time without health insurance, receiving care from crowded medical facilities. The experience has taught her what it feels like to be on the other side of medicine.

At what was supposed to be her first shadowing experience, Ms. Washington met with the gynecologist she would be shadowing beforehand. After only five minutes of casual conversation and questions, the gynecologist told her that she would not become a doctor, and did not have what it takes to become a physician. Ms. Washington recalls feeling frustrated and confused, but now is able to use his doubts as a motivator for her own success.
When it came time to choose a medical school, Ms. Washington felt the decision was an easy one after her interview at Howard. She loved her interview and was immediately able to feel a family atmosphere. She knew that her empathetic nature would mesh well with Howard's patient first approach and appreciated that Howard cares for patients that wouldn't get put first anywhere else. In order to ensure that students are able to receive the same friendly welcome that she received, Ms. Washington has spent two years as a tour guide, and her last year as a freshman liaison.
As she enters her third year of medical school, Ms. Washington knows that the familial bond between her classmates has only grown stronger. She fondly remembers naps on couches on campus, and the countless hours spent in the anatomy lab with her classmates. She never takes for granted that Howard has connected her with so many diverse people from different backgrounds and countries. "There's truly nothing like it" says Ms. Washington. "This past year, standing in anatomy lab as we cleaned up and got ready for summer, it hit me, that I was standing a room of 100 people who would become doctors with me," Ms. Washington recalls.
Ms. Washington feels that receiving the Drs. Samuel and Joyce Busch Scholarship from HUMAA was a blessing, and stresses that it means more to her than just financial help. "Scholarships relieve a burden by allowing students to focus and pick the field of their choosing" says Ms. Washington. She feels fortunate to be able to dedicate herself to pediatrics and family medicine, fields that may pay less, but are more personally fulfilling. When she begins to doubt herself, she knows she will remember the scholarship as a validation of her success and belonging. Once she graduates and joins the alumni community herself, she hopes to forge the same kind of connection with students and continue the tradition of giving.
As for this academic year, Ms. Washington says that "turning 25 years old, getting a USMLE Step score to continue into my third year, and getting engaged is a pretty great way to start." She advises first year students to start learning their own best study habits, and to be ready to adjust study habits when the semester changes. She recommends going out and doing something that you enjoy after taking exams, and stresses the importance of not comparing yourself to others. Lastly, she encourages new students to get involved in student organizations, remember that classmates become family, and to apply for HUMAA scholarships.