Diana Nwokoye - 2017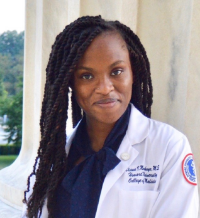 Diana Nwokoye is a second-year medical student at Howard University College of Medicine with a passion for neuroscience, dance, and helping others. Her journey into medicine started in Nigeria, where she grew up. She remembers her time there fondly, specifically recalling the impact that dance had on her. "In Nigeria, we danced for everything, whether we were celebrating the birth of a child or the life of a loved one who passed. While immersed in the sounds of the drums, I was captivated by what my community accomplished on the dance floor. No matter the circumstances, we uplifted one another to places of joy through dance. However, when the drums fell silent, I found that this idea of uplifting others transcended the dance floor," says Diana. Unable to sit idly by while others suffered, she began saving up her lunch money to give to people affected by illness on her way to school at least once a week.

At 11 years old, Diana moved to Tampa, FL with her family. She developed an interest in health sciences at an early age and remembers rushing home from school to excitedly recount facts about blood pressure to her family. She often thought back to her time in Nigeria and the poor health conditions that affected so many. Growing up, she knew that a career in health sciences could help people, but she was unsure of which path to pursue. It was not until her sophomore year of college, when she was shadowing a doctor that she realized that a career in medicine was the perfect opportunity to merge her love for science with her desire to uplift others.

When it came time to choose a medical school, Diana's interview at Howard solidified the school as her top choice. "I had the most fun at my Howard Interview. I searched for a school with a real family heartbeat--a place where people are supportive of each other and lift each other up. This is exactly what I found my first day at HUCM," says Diana. Since arriving, Diana has taken advantage of all that DC and Howard has to offer. She spent the summer interning at the National Institutes of Health (NIH) and took part in a medical mission trip to Peru. She is also an active member of the International Medical Interest Group, Medical Students for Africa, Student National Medical Association, Student Interest Group for Neurology, and Christian Medical and Dental Association on campus.

Last year, Diana was the recipient of the Gordon C. Fraser Scholarship. In addition to helping her pay for her mission trip to Peru, the scholarship provided her with valuable encouragement to keep chasing her dreams and furthered her connection with the alumni community. "Whenever I feel overwhelmed, I walk the halls and look at the pictures of all the alumni on the walls. Each time, I am filled with strength because I am reminded that many before me have successfully walked this path and worked relentlessly to pave this road for me. To receive tangible support from someone on that wall is very special to me, because now I know that you all believe in me," says Diana. 

Diana is also very grateful for the support that she has received from her family, her sister whom she lives with, and her friends. She is appreciative of the opportunity that Howard University has provided her with and is excited for what comes next. "I think that the alumni and faculty have done a great job of creating a nurturing culture. We want to carry on and grow that culture and legacy," she says. Once finished with medical school, Diana hopes to obtain a residency in neurosurgery. Ultimately, she plans to work at a teaching hospital where she can lead research efforts and mentor students and residents, all while broadening knowledge and care for neurological diseases in developing nations, especially Nigeria, where her journey began.