Marcus Wooten - 2015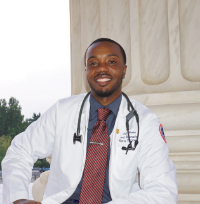 Marcus Wooten is from Arlington, TX and is the son of a former Surgical Technologist. He currently serves as the Chapter Vice President of the Student National Medical Association (SNMA) at Howard University College of Medicine. He applied to several medical schools in 2014 and wasn't accepted to any, so he took time to work as an ER scribe and teacher. Two years later, he applied to Howard at the suggestion of one of his mentors. 

"Howard is family," said Marcus, a current junior. "The difference with Howard is that we are dedicated to serving the community and underserved populations. Even though myself and my classmates have different interests and might go in different directions, we are all willing to help and give back, which creates commonality and a real family atmosphere."
Marcus is well aware of the national trend of the decrease in black men applying to medical school and feels blessed to be where he is today. "There's some reasons why the number has decreased," says Marcus. "Even though more black males are getting degrees, a lot of them aren't pursuing higher degrees in general. Growing up, I know that overly-restrictive laws had removed a lot of role models from households across the country. Some people can't afford to go back to school, others might not have the best grades, and some lack the right mentorship and guidance. Some don't even know where to start. Just the stigma alone of being a black or brown man in medicine and having people tell you 'you can't do it' can stop you. Having some form of a support system plays a big role."
In his role in SNMA last year, Marcus was heavily involved as a Co-Coordinator of the Health Professionals Recruitment and Exposure Program, visiting McKinley Tech, Dunbar and KIPP high schools to expose students to his story as a young black professional. He helps teach physical exams, how to take vitals and collaborated with other student groups to teach suturing on bananas. He and his classmates also put together a lecture series to discuss debunking myths about medical school, the perception of black men in medicine and how to overcome obstacles others might put in your way to achieving your goals. The group finished off the year with a health fair, where students researched diseases/conditions prevalent in the D.C. and then presented to their community with the goal to promote health awareness.
"If it wasn't for Howard, I don't know where I would be right now," says Marcus. "I owe so much to my mentors and I want to stress how important it is to reach out. Just showing our faces, and letting people know that we've reached our goals can really make all the difference. I was really in a hole when I wasn't accepted to any medical schools back in 2014. I was lost, in limbo and was wondering whether I even wanted to apply to medical school again. Like a lot of people, I was wondering whether I was even good enough. Once I started working as an ER scribe for a year, I knew that medicine was the right choice for me. I felt part of a team with people who have established themselves in medicine and had accepted me as one of their own. Now, I'm in my third-year mentoring over a dozen medical/pre-medical students. Going to Howard has only solidified that feeling for me. I feel fortunate that I was given a chance."
Marcus is grateful for the vast support network of alumni that he and other medical students can rely on. "Thank you all for supporting students through HUMAA scholarships," he says. "That has been very beneficial to our study body, and we are grateful for you paying it forward for us. You are the epitome of excellence that we strive to achieve. You are the true custodians of the Howard code, so please keep your doors open and remain available like so many of you do." Marcus' current interests are surgery, internal medicine, and emergency medicine with a sports medicine fellowship. One day, Marcus hopes to create his own mentorship program and scholarship fund to send students to college and medical school. For now, he plans to continue reaching out to others to help them achieve their greatest potential in any way he can.