Rolanda Willacy - 2019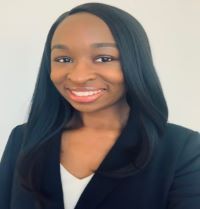 During my medical school journey, I have had different experiences that reinforced my desire to have a future impact on patient care through Orthopaedic Surgery. One such experience was my Preceptorship with Dr. Thompson in the Orthopaedic Surgery Department during my first year of Medical School. During this preceptorship, I had the opportunity to observe a range of cases form patients that sustained sports injuries to patients that suffered pain from osteoarthritis. In one particular case, I witnessed a patient that had dislocated both shoulders. It reminded me of my experience of dislocating my shoulder when I was 12 years old. I noticed the care that Dr. Thompson took in acknowledging the improvement in the patient's condition, as well as counseling the patient to continue with physical therapy. This experience demonstrated the kind of physician that I aspire to be, one who listens to the concerns of the patients and provides a viable plan of action. Having experienced a dislocated shoulder, I can now empathize with the concerns patients have in being able to fulfill essential tasks both in an occupational and social setting.
In the summer following my first year of Medical School, I received the prestigious Nth Dimensions Orthopaedic Summer Internship at NYU Langone under the preceptorship of Dr. Toni McLaurin in orthopaedic trauma surgery. This internship provided an opportunity to see a variety of orthopaedic cases in trauma, joint reconstruction, and sports medicine while putting my anatomy knowledge to use. This experience helped to solidify my interest in the field of orthopaedic surgery. Witnessing the early mornings and late nights of Orthopaedic Surgeons committed to providing surgical expertise to complex and, at times, life-threatening cases opened my eyes to the role that I wanted to play in healthcare. Furthermore, I realized that I enjoyed waking up early each day, and the hours seemed to pass quickly.
During my third year, I served as the Co-President of the Orthopaedic Surgery Interest Society at my institution. This leadership role allowed me to explore further creative methods of engaging women who were considering this specialty. This interest lead to my creation of the Annual Women in Orthopaedics Dinner in 2017. This dinner was special in that it allowed a space for women to share their journey with medical students while simultaneously providing valuable advice and resources. This event has also been an opportunity to highlight the accomplishments of women who have been groundbreakers in this specialty. Featured speakers include the 1st African American female Orthopaedic Surgeon in the USA, Dr. Claudia Thomas, and most recently, Dr. Kristy Weber, the 1st Female President of the American Academy of Orthopaedic Surgeons. Most recently, I created the interest group, Orthopaedic Women of Howard, to provide more resources and opportunities for mentorship, shadowing, and research.
Between my 3rd and 4th year of Medical School, I completed a Research Fellowship at the Children's National Medical Center and Howard University Hospital Department of Orthopaedic I completed a Research Fellowship at Children's National Medical Center and Howard University Hospital Department of Orthopaedic Surgery. It was during this time that I had the opportunity to help develop the first year of the Orthopaedic Surgery Research Group under the direction of Dr. Robert Wilson. Through this experience, I coordinated Student and Resident projects and managed IRB submission, CITI Training Requirements, Grant Submissions, Abstract and Manuscript Development, Review and Submissions to Conference and journals. This was also an opportunity to develop my acumen in Orthopaedic Surgery through various projects related to Hand & Upper Extremity,
Outcomes Research related to Joint Reconstruction, as well as Systematic Reviews. Furthermore, I created a Research Manual to help share the knowledge and experience that I gained throughout the year and to provide a step-by-step guide that would help facilitate future research projects. I also had the distinct opportunity to simultaneously complete a research year at Children's National Medical Center under the preceptorship of Dr. Laura Tosi. During my time there, I co-authored a chapter that will be featured in the 4th Edition of Orthopaedic Basic Science that discussed Dimorphism in Musculoskeletal Health, and Patient-Reported Outcomes Research in Postoperative Pain Measures in ACL Reconstruction.
These experiences have strengthened my overall understanding of Orthopaedic Surgery, and how research and evidence-based medicine have benefited the quality of patient care. Furthermore, I look forward to the contributions that I can make in the areas of research, diversity, and evidence-based practices that will benefit patient care and the overall field of Orthopaedic Surgery.
UPDATE: On Friday, March 20th, 2020, Rolanda matched to Orthopaedic Surgery at Howard University Hospital, her top Residency choice! She is looking forward to serving the Washington, D.C., community, and training at the Program where her journey to Orthopaedic Surgery first began!